2018/06/03
2018.6.3 Osaka Shion Wind Orchestra The120th Subscription Concert (Page for English)
2018.6.3 Osaka Shion Wind Orchestra The120th Subscription Concert (for Japanese)
---
~ Sparke, again. ~

It has been three years since the first co-starring in June 2015. Philip Sparke is coming back again for the Osaka Shion Wind Orchestra's 120th regular concert. The program of the concert is All-Sparke works, including Japan premiere "Slavonic!", "A Savannah Symphony - Symphony no.2" which has inspired by Savannah City's history, scenery, buildings and so on in the first urban planning in The United States. The Symphony of orchestration has some unique things such as a "banda" come up in the third movement. The program also includes 2017 edition of one of his masterpieces "The year of the Dragon". In this new edition, some percussions, woodwind basses, and contrabasses are added to scale up to modern wind band style.

Date: 2018.06.03 sun.
Time: 14:00 Strat/13:00 Open
Place: The Symphony hall
Cond.&Comp.: Philip Sparke
[PROGRAM] All Sparke Programs
Neapolitan Holiday
Salvonica! - (Japanese Premiere)
The Year of the Dragon (2017)
A Savannah Symphony - Symphony No.2
*Subject to change
Now on Sale
Admission fee: S/5,000yen,A/4,000yen,B/3,000yen,Pair seat/7,000yen
Students discount /1,000yen off *S·A·B seats are increased by 500 yen on the day.
*All seats designation, tax-included
*Shion Ticket Center · Lawson Ticket (Operator Supported) · e + (E-Plus) If you purchase, you can choose your seat.
*Pair seat · Student discount is sold at Shion Ticket Center only.
* Please refrain from entering children before preschool.
TICKET INFORMATION
[Shion online tickets] http://shion.jp
[Shion Ticket Center] free call 0800-919-5508
(Outside Saturday, Sunday and public hol 10:00 -17:30)
[Ticket Pia] 0570-02-9999 (P code) 105-449
[LAWSON-TICKET] Voice Guidance (24 hour reception)
  0570-084-005 (L code) 50710
           Operator Supported (10:00-22:00)
0570-000-407 (No L code required)
[e+(E-PLUS)] http://eplus.jp
[The Symphony Ticket Center] 06-6453-2333(Except Tuseday 10:00-18:00)
[sponsor] Osaka Shion Wind Orchestra [Nominal support] British Council
---
PHILIP SPARKE   
Philip Sparke was born in London and studied composition, trumpet and piano at the Royal College of Music, where he gained an ARCM.
It was at the College that his interest in bands arose. He played in the College wind orchestra and also formed a brass band among the students, writing several works for both ensembles.
At that time, his first published works appeared - Concert Prelude (brass band) and Gaudium (wind band). A growing interest in his music led to several commissions, his first major one being for the Centennial Brass Band Championships in New Zealand – The Land of the Long White Cloud.
Further commissions followed from individual bands, various band associations and the BBC, for whom he three times won the EBU New Music for Band Competition (with Slipstream, Skyrider and Orient Express). He has written for brass band championships in New Zealand, Switzerland, Holland, Australia and the UK, including three times for the National Finals at the Royal Albert Hall.
A close association with banding in Japan led to a commission (Celebration) from and eventual recording of his music with the Tokyo Kosei Wind Orchestra. This opened the door worldwide to his wind band music and led to several commissions, particularly from the United States. In 1996 the US Air Force Band commissioned and recorded Dance Movements, which won the prestigious Sudler Prize in 1997. In September 2000 he was awarded the Iles Medal of the Worshipful Company of Musicians for his services to brass bands. In 2005 Music of the Spheres won the National Band Association/William D. Revelli Memorial Band Composition Contest. He won the same contest again in 2016 with A Colour Symphony. In 2011 he received the BUMA International Brass Award and the 4barsrest.com Special Award for his contribution to brass music.
His conducting and adjudicating activities have taken him to most European countries, Scandinavia, Australia, New Zealand, Japan, Canada and the USA. In May 2000, he took the major step of becoming a full-time composer by founding his own publishing company, Anglo Music Press. The company is devoted to publishing his brass band, concert band, fanfare band and instrumental publications as well as recordings dedicated to his latest works.
---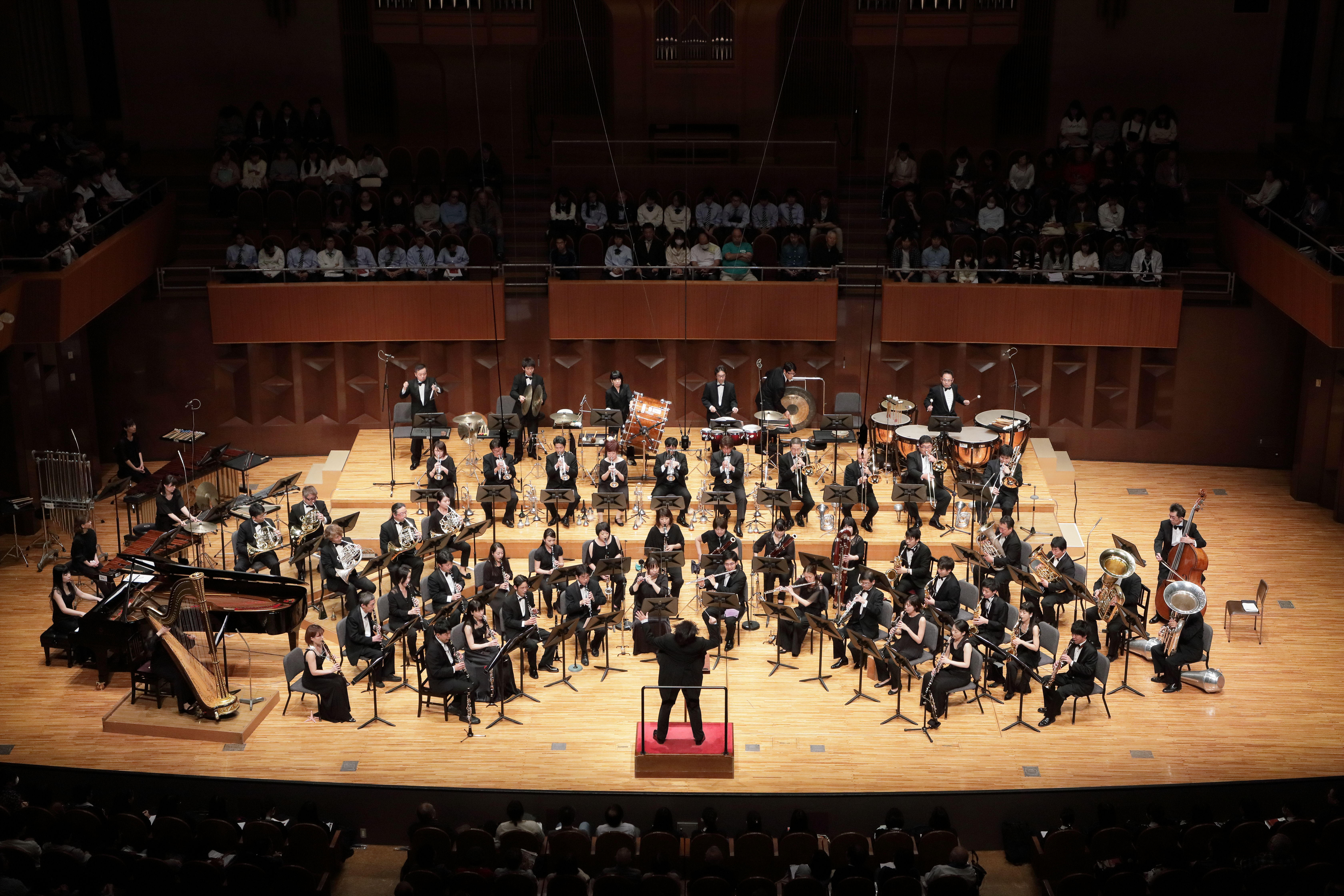 Osaka Shion Wind Orchestra
(former Osaka Municipal Symphonic Band)
Founded in 1923, Osaka Shion Wind Orchestra, commonly referred to as 'Shion' is widely acknowledged as the oldest professional wind orchestra in Japan. Today Shion continues to contribute to Japanese music culture performing a wide range of music from classical to popular music. The Orchestra has produced many recordings and has played a big role in the field of music education. It has received prestigious awards for its work including awards at the Osaka Cultural Festival Awards three times, Japan Broadcast Culture Awards, Naniwa"Ichibiri"Activity Awards, Osaka Art Awards.
In 2014, Akira Miyagawa was appointed as Music Director ,Kazuyoshi Akiyama to the position of artistic advisor and In April 2017 You Nishimura was appointed a regular conductor.
- Home Page -
http://shion.jp
- Address -
2-1-10 J-2, Nankokita, Suminoe-ku
Osaka-shi, Osaka, 559-0034, Japan
- Phone -
+81-6-7668-5540
- FAX -
+81-6-7668-5489
- E-MAIL -
info@shion.jp
---